In This Edition:
App Updates and Improvements
Web Version Released
Barcode Catalog Updates
Tips & Tricks
CML Insiders
App Updates and Improvements:
We have had 2 Android app updates this month, concluding with 1.6.4 released on March 29th. Includes fixes for bugs, an incompatibility issue with our web version, and fixes a new problem 10% of users experienced with 1.6.3.
Also, for those of you having issues with Disabling/Enabling Categories and syncing the changes to the cloud, we have fixed the issue! Older Category settings in the mobile app may not match the Category settings in the web app, but future changes will work correctly. Thank you for your patience!
Web Version Released:
We are SO excited to announce that after over a year of development, our Web Version is now up and running! Just go to web.colormylife.com and log in with your normal username and password. Keep in mind that an active mobile app subscription is required to add content and either iOS app 1.7.0 or Android 1.6.3 or later. The Web Version uses the larger display to add features such as multi-item edits, where several items can be selected and edited at once. We can't wait for you to try it out!
For help navigating our Web Version, we encourage you to visit our support page at https://colormylife.com/support/. This page includes how-to guides for using the Web Version, as well as information about known bugs.

For more support, you can email us at support@colormylife.com, but please review the list of known bugs and enhancements first – your issue may already be identified!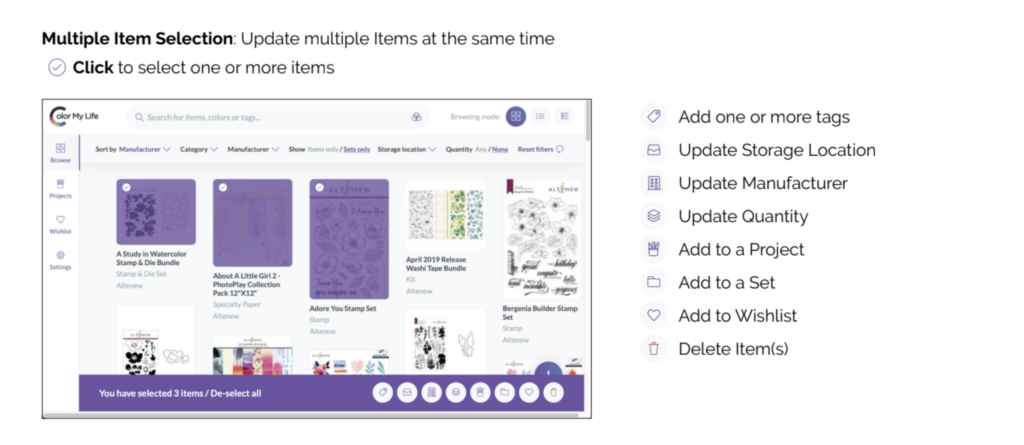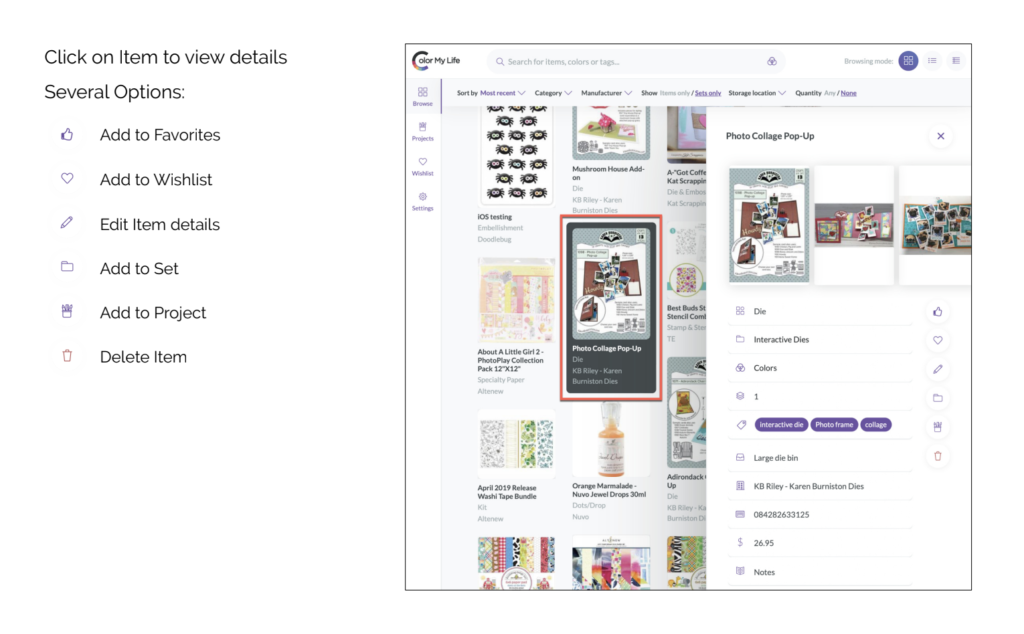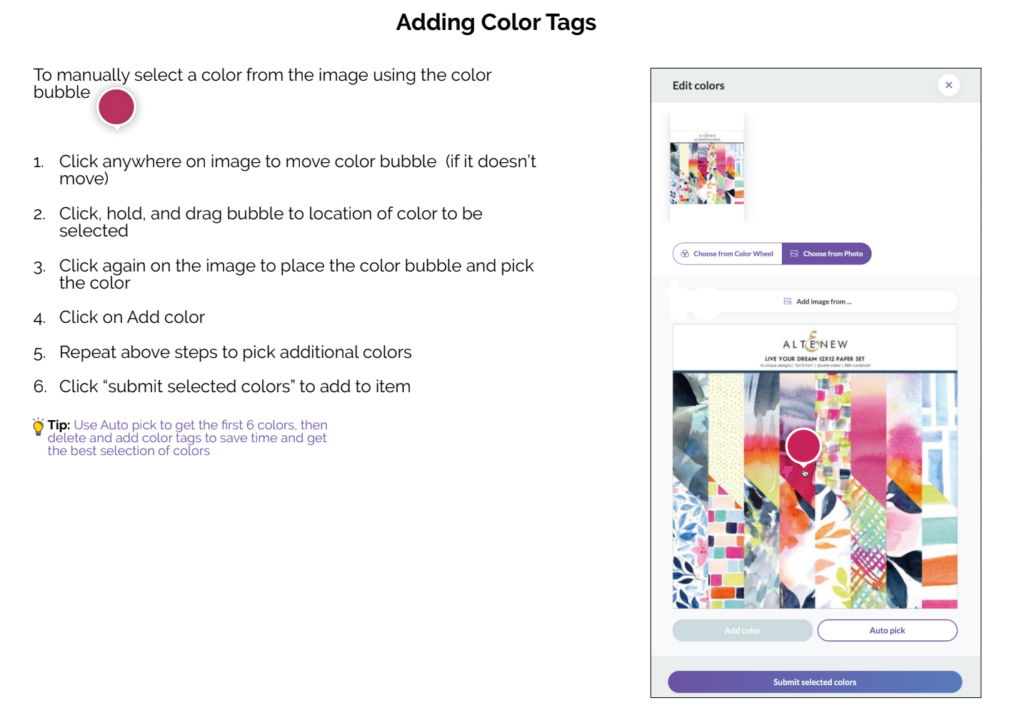 Barcode Catalog Updates:
My Favorite Things:
In case you missed our announcement on Facebook and Instagram, the highly requested My Favorite Things product catalog is now available in the Color My Life App! You heard it right – scanning or browsing the catalog can quickly add your MFT items. Our catalog now features all their products, including their latest March release and the Serenity Now collection, which we love! To see more about the new releases, check out our blog post here: https://colormylife.com/new-products-from-my-favorite-things-march-2023/.
Take a moment to explore the wide variety of outstanding products My Favorite Things offers. From delightful stamps to intricate dies, they have beautiful products to elevate your crafting game. So what are you waiting for? Get commenting and start shopping at https://www.mftstamps.com/.
Catherine Pooler:
Are you ready to be swept away by the latest release from Catherine Pooler, Boho Trends? Get ready to fall in love with the whimsical charm of rainbows and butterflies! This collection is bursting with creativity and inspiration, featuring stunning stamps and dies that will help you bring your vision to life. See more of the new release here: https://colormylife.com/new-products-from-catherine-pooler-march-2023/.
And let's not forget about the inks – they are absolutely divine! With their juicy and vibrant hues, these inks will bring a bold and beautiful touch to your creations. The best part? Catherine Pooler makes it easy for you to create color combinations that truly pop with their free color wheels and color combo guides. Get ready to take your crafting to the next level with the Boho Trends release – let your creativity soar! For more information about their inks, see their website: https://shop.catherinepooler.com/pages/ink.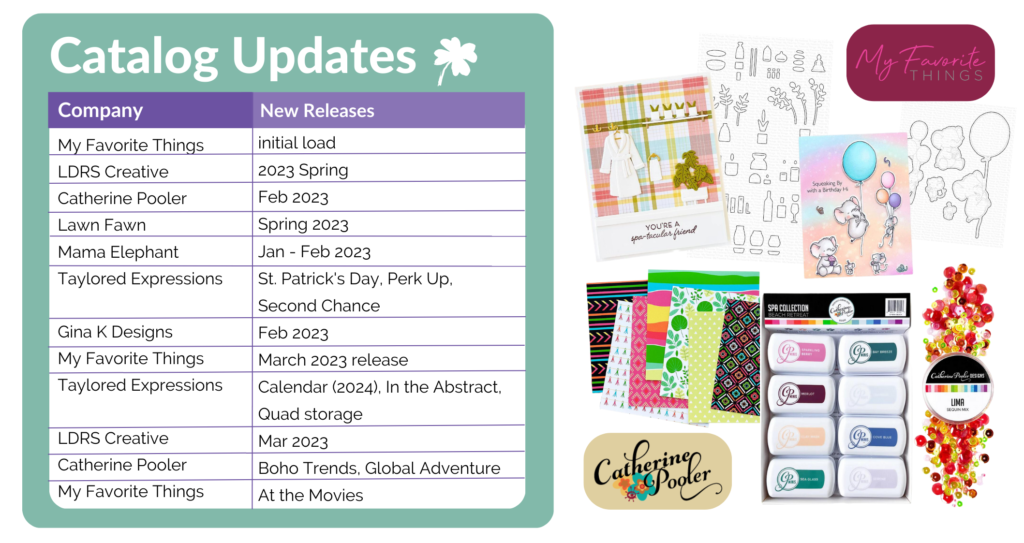 Events:
The pandemic brought virtual crafting events directly to our own homes and craft rooms! If anything good came out of the pandemic, this was one of them. We have a few favorites with companies in the app – read ahead to explore some exciting upcoming events in the crafting community!
Taylored Expressions: Stamp Joy, an in-person event with Taylored Expressions, will be held in October in Ankeny, Iowa! Their virtual event was held on March 9-10, 2023. You can see more information about the event at this link: https://www.tayloredexpressions.com/virtual-stamp-joy-2023/.
Be sure to sign up for their newsletter to be notified when signups are happening!
Scrapbook and Cards Today: Crop & Create Delivered—the mother of all virtual events we've ever attended—will be held in both Spring and Fall! Scrapbook and Cards today holds both in-person and virtual events which span several days each. Many of the companies in the CML app (Gina K, Mama Elephant, Taylored Expressions, Altenew, Lawn Fawn to just name a few) have participated in at least one of their events. Seriously folks, you will be amazed at the amount of product you get with this event, not to mention the crazy talented instructors! More information about their events can be found here: https://scrapbookandcards.com/crop-and-create/.
Tips & Tricks:
We get asked a lot about Sets. What is a Set? When would you use it? Does every item need to be in a Set? Here are our suggestions for using Sets, but look through the posts in the CML Insiders group on Facebook for more ideas. If you have a suggestion for Sets, by all means, share it in the group. And lastly, everyone has their own preference for using Sets; there are no rules, and these are simply suggestions.
Sets are a way to group together your items. Think of them as a folder, which is also the icon for Sets! Items can also be added to one or more Sets.
When to Create Sets:
Group items that coordinate with each other, such as a product line with coordinating paper, stamps, ephemera, etc.
Products that were used in a class or virtual event. This can be a great reference when you are trying to recreate the items from the event.
Kits: Catalog each item separately in the app, but then create a Set with all the items in the kit. Inspiration can be from the kit images or find your own inspiration from the individual items.
If you catalog a coordinating Stamp and Die as individual items, then creating a Set that includes both items makes sense.
When to Avoid Creating a Set:
Creating a Set for a manufacturer or category. It's easy to miss adding an item to a Set for a given Manufacturer or Category, which means the Set will be incomplete. Instead, use filters to quickly find your items. The Search also finds manufacturers.
Not every item needs to be in a Set. It's a lot of effort to maintain Sets for every item.
Set vs Tag: when is one better than the other? Let's say you want to quickly find all your dies that are designed for stitching, or maybe stamps that are ideal for Copic/Alcohol Marker coloring. You can create a Set with the items or add the same tag to the items which can be searched. In both cases, you can apply filters to narrow down the results. Really, it's all down to personal preference on this one.
CML Insiders:
Don't forget to join CML Insiders, our private Facebook Group where users of the app come together, share tips and tricks, ask questions, and share their beautiful crafting creations! The group members are knowledgeable, and we (the app developers) also check in regularly. Join the group at this link: https://www.facebook.com/groups/346911029546654/.