The app designed exclusively for paper crafters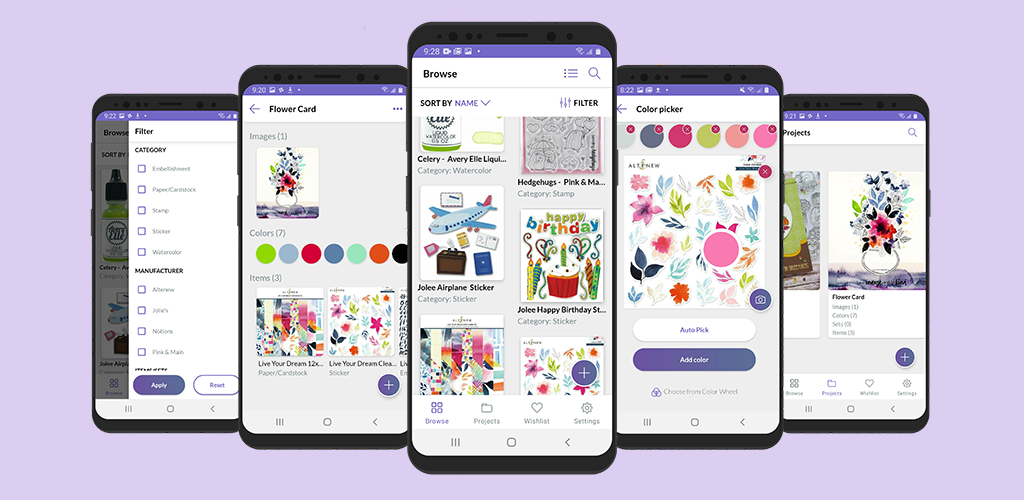 Color My Life is the mobile cataloging app designed exclusively for paper crafters. Its easy-to-use interface organizes and catalogs paper crafting supplies, so crafters can spend more time designing and creating, and less time searching through disorganized inventory. Color My Life has an intuitive user-centric design and includes these capabilities:
Frequently Asked Questions
What does this App actually do?
It is first and foremost a catalog of your paper crafting supplies. It helps you find an item by searching and filtering. A built-in barcode reader makes adding items a snap.
Want to bring together everything for a project? Just add your inspiration, be it a photo or a color palette, then search for the items you need to complete the project. Plan pages of a scrapbook or birthday cards for friends.
How often is the App updated?
The frequency of updates is dependent upon complexity, for example, we worked for over year on the Web version. We have a roadmap of new features and we are releasing them as frequently as we can. In the interim, there will be bug fixes as needed. We are constantly adding items to the barcode catalog. If you are a vendor please contact them and ask them to to join the app by contact us - it is very effective.
What are your plans for the future?
A flavor of what's ahead:
1. We have a small team dedicated to collecting and updating the catalog
2. We just released the web version! And we have additional features being developed.
3. The projects feature is useful, but we have big plans for how this will evolve in the future.
Why do you have a subscription?
First and foremost, we didn't want to sell your information or push adverts. The subscription covers regular maintenance costs; for example, the sync and backup all occur on Amazon Web Services, and we also have a small team to gather catalog updates.  In addition, it helps us implement the long list of enhancements we have planned. We believe that you will find it well worth it!
Yes! It was released March 30th, 2023. Click the "LOG INTO WEB VERSION" button at the top right of this page. It requires that you have a mobile app subscription. In the future we will likely add the option of purchasing the subscription directly on the web.
To stay up-to-date on the app release, news, feature updates, hints 'n tips please add your email and we will keep you informed!