In this edition:
Intro – 2022
Web-version status
Catalog updates
The first update of 2022
I'm here to wish you a positively excellent crafty 2022. We have the gift of a craft/hobby that can be enjoyed solo or with crafty friends. It doesn't matter what the weather is doing or if we are amid some new pandemic; it doesn't stop me, and I hope it doesn't stop you either!
If you have read the About page on our website, you will know that I am Renee, and I started out looking for a better way to organize my stash. Not being happy with any of the other solutions, I worked with my husband to create Color My Life. We have been able to fund the development personally so that the subscription fees cover just the day-to-day infrastructure costs. I set out to create the best app for my personal use so that I'd be happy even if we had a customer base of one, haha! We are thrilled with the positive feedback we receive and to see the growth in accounts and items added. So, thank you all for your trust and engagement with the app.
I still have a day job working in IT, and my husband has a consulting business that allows him to split his time between paid work and the app (his pay for work on the app is a happy wife!). So, much to my pleasure, I found time to add my stash of 2,000 items last year. It reminded me why we created the app! Also, a special thanks to the small team of people who assist with the barcode catalog; it is a crafty labor of love because it certainly isn't the pay!
Web-version status
So what's the web version looking like heading into 2022? At the top of the page is a sneak peek.
A core part of the design is having a familiar feel to the app while benefiting from using a larger screen. This allows us to add multi-item edits, so changing all the storage locations or adding a tag to multiple items will be a breeze. Development is progressing every week, but we are not yet naming a release date. Things are still being built, so we haven't started detailed testing in-house yet, but hopefully, we can start that soon and get some external testers to give feedback in February/March.
Catalog Updates

We continue to add catalog updates as they become available. We are so pleased to report that Mama Elephant provided their catalog and we have a GIVEAWAY this week on Facebook/Instagram, so head on over there and comment on the post for a chance to win.
These are the releases added since the last update: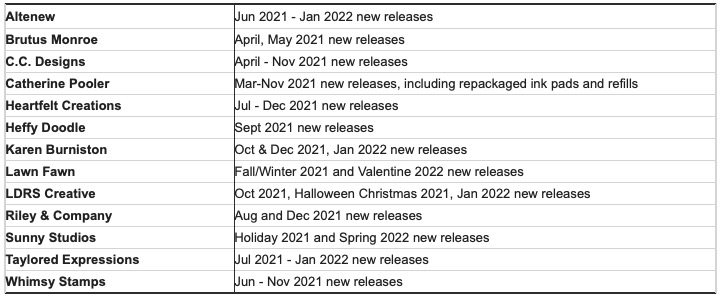 Support
The best way to contact us about an issue is through the app. Go to Settings->About & Support and you can send us an email that will include your account details. This makes it easier for us to find you in our system.
Lastly, we have a Facebook group called "CML Insiders". It's a great place to see how others are using the app or post a question about the app. The group members are knowledgeable and we also check in regularly.