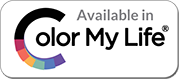 We are pleased to announce that Kat Scrappiness is now available in the Color My Life® barcode catalog.
One of the most powerful features of the Color My Life app is the barcode catalog. Items can be added by scanning a product's barcode or by searching with text and filtering by category and manufacturer.
We are grateful to Kat Scrappiness for providing the catalog of their excellent products. Check out their stock and add their products to the app so that you can easily track your inventory and search for items to complete your creative ideas.